PAF F-7PG
'What is the strategy deployed against the Indian BVR fighter threat' asked an air enthusiast to a No.18 Squadron (F-7 OCU) pilot on a winter night at Mianwali.
After explaining the basics of BVR combat the fighter pilot replied, 'Imagine an Indian Su-30MKI fires a R-77 Adder at us from extreme range......'.
'Sorry to interrupt, but did you say, Su-30MKI. It is a great plane. Would you F-7 guys intercept it or evade it as it is no match for you.' said the air enthusiast.
'Well brother, Su-30MKI is a good plane but it is not invincible. It is built by humans, flown by humans and maintained by humans. It is our strong belief that if anything is created by humans it can be countered by humans. We study our adversary in great detail and have developed different strategies as per situation. Even if we are pitted against stealth fighters like F-22 we would put up a fight. If we have the guts to stand up against the Raptor, and have raised our bars of training at the level of the Raptor, the Indian Su-30 is comparatively much easier to handle."
With this confidence, i was convinced that F-7MP/PGs and PAF pilots do form a lethal combination for the enemy. Known as a modified MiG-21 in the western world and a downgraded MiG-21 by the Indians, the F-7MP currently forms the backbone of the Pakistan Air Force.
During the early 80s, PAF required a replacement for the Shengyang F-6 as the backbone of PAF. The requirement was a Mach 2 fighter, equipped with latest avionics to counter the threat posed by the following fighters:
MiG-21bis & MiG-21MF interceptors
MiG-23MF & MiG-23MLD interceptors

MiG-25R recee aircraft

MiG-23BN & MiG-27M ground attack aircraft

Su-22 & Su-25 ground attack aircraft
The fighters/bombers mentioned above were fielded by India and Russia, in large numbers, at a time when F-6(MiG-19) was the backbone of PAF. Though an excellent fighter in all aspects the only two disadvantages of the F-6 were its speed, and lack of an A/A radar. In a couple of engagements with MiG-23MLDs, the F-6s engaged at will but could not catch up with them due to their slow speed. Similarly in their engagements with Su-25s, their missiles usually missed, mostly due to lack of modern avionics and the counter-measures taken by the Su-25s.
PAF F-6 (MiG-19S)
Earlier in the late 70s, PAF was offered the following fighters in large numbers, which could equip five full strength squadrons including an OCU: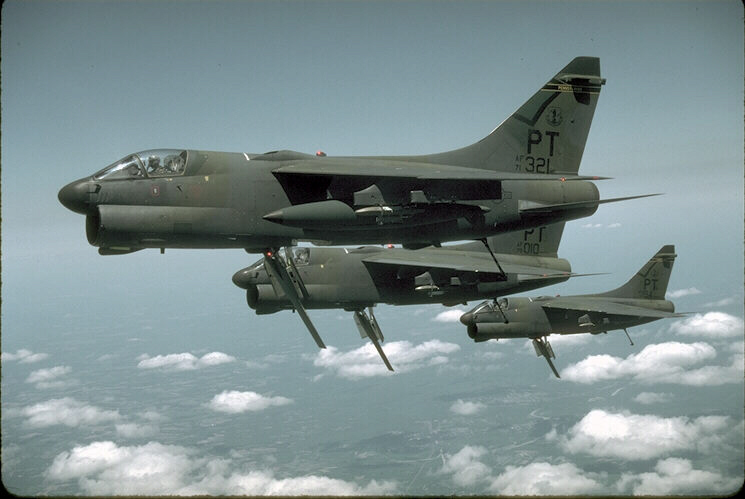 F-7M Airguard by China
Initially PAF rejected both offers of A-7E and F-5E, as PAF felt that both offers were coming a decade late. Aircraft such as F-14, F-15, F-16, F-18 and Mirage-2000 were too much expensive and could not be purchased in large numbers. Similarly, the French Mirage-F1 was similar in performance with Mirage-III/Vs already in service with PAF, and were expensive. With PAF already purchasing 40 F-16A/B Block-15s from US, their were limited funds available which made the F-1C not feasable for PAF, thus PAF decided to evaluate the Chinese offer of F-7M Airguard
F-7M Airguard
F-7M was an improved J-7II variant for export with western avionics, with British GEC-Marconi as the prime contractor. Program initiated in 1978 and took six years to complete, after 10 rounds of negotiations.
Western avionics included:

British Type 226 Skyranger radar: Ranging radar that weighs 41 kg with a range of 15 km.

British Type 956 HUDWAC: This HUD has a build-in weapon aiming computer, hence the name Head-Up Display And Weapon Aiming Computer.

British Type 50-048-02 digitized air data computer

British Type 2032 camera gun, which is linked to HUD with capability to interchange rolls of film while airborne. Each roll of film lasts more than 2 minutes.
American converter that is over 30% more efficient in comparison to the original Chinese converter.

American Type 0101-HRA/2 radar altimeter with range increased to 1.5 km in comparison to the original 0.6 km of the Chinese radar altimeter it had replaced.

British AD-3400 secured radio with range in excess of 400 km at 1.2 km altitude.

Other improvement includes domestic newly designed CW-1002 air data sensor developed in conjunction with the western avionics, and WP-7B/WP-7BM engine.

A totally different wing enabled the take-off and landing distance to be reduced by 20%, while increasing the aerodynamic performance in dogfights. F-7M was nearly 40% more effective than MiG-21 in terms of overall performance. It could use French R-550 Magic and PL-7 Air-to-air missiles.
Pakistan contribution
Although Pakistan did not purchase any F-7M in the early 80s, it did provide important support for F-7M program, including:

In the last quarter of 1982, test flights revealed that the radar was plagued by the problem of picking up ground clutters. China did not have any western radar assisted air-to-ground attack experience, and had no idea of conducting the necessary flight tests specifically designed for the western avionics to solve the problem. Pakistani Air Force provided pilots (including F-16 pilots) to China to perform these tests and helped in solving this problem.
Chinese 630th Institute responsible for F-7M program lacked the facility and experience to conduct live round weapon tests with advanced western avionics, and it also lacked the capability to conduct mocked air combat with western aircraft. Therefore from June, 1984 to September, 1984, two F-7Ms were sent to Pakistan to conduct such tests. Pakistan Air Force once again provided F-16 pilots to help to complete the tests, with the Chinese team in Pakistan led by Mr. Chen Baoqi (
陈宝琦
) of the Chinese Aviation Ministry and Mr Xie Anqing (
谢安卿
) of Chengdu Aircraft Co.
Dogfight between F-6 vs F-7M in DACT
DACT with F-16A and Mirage-IIIEP, VPA, VPA2/3 took place on frequent basis and PAF was impressed with the dogfighting skills. If the aircraft was to be upgraded according to PAF's standards it could be a welcome addition, as it was better than the original MiG-21 when compared to endurance, low & high speed handling as well as thrust-to-weight ratio.
Dogfight between Mirage-IIIEP vs F-7M in DACT








Birth of F-7MP
PAF initally purchased a squadron of 20 F-7Ms in 1986 and put them to some acid tests by the most finest pilots of the PAF. These aircraft were tested up to their optimum limits and were evaluated very minutely.
Early F-7P in 1988
After nearly two years use of the F-7M, Pakistani Air Force (PAF) returned the 20 F-7M aircraft to China in the late 1980s with recommendations for 24 upgrades, including replacing the original GEC-Marconi Type 226 Skyranger radar with the Italian FIAR Grifo-7 radar, and AIM-9 Sidewinder capability.
F-7MP in 2005
The Italian radar weighs 55 kg, had a slot antenna planar array, and had a range greater than 50 km, while the British radar only weighs 42 kg, with a parabolic antenna, but only had range of 15 km. Both radars have a mean time between failure rate of 200 hours. F-7MP is the design specially tailored to Pakistani requirements.
F-7MPs over Ghazi Brotha in 2005
These twenty aircraft re-entered PAF in 1989, and were again tested extensively. This time with a powerful multimode radar and avionics, and the capability to fire AIM-9L/Magic-II missiles, these aircraft become a potent weapon system. Thus PAF was satisfied with these aircraft and ordered a large number of these fighters to replace the ageing F-6.
CCS F-7MP in 2007
A total of 60 more were built. And in a ceremony in 1990, No.20 Squadron was re-equipped with F-7MPs. PAF recieved 80 F-7MPs and 20 FT-7s, trainer version of the F-7MP and F-7P. Unlike most Chinese built JJ-7 trainers which lack radars, the FT-7P was armed with the same radar on the single seat version and thus fully capable for combat. These aircraft were termed better than the MiG-21bis, MiG-23MF and all the modern attack aircraft with Indian Airforce (except MiG-29 and Mirage-2000H) at that time i.e. 1990-2000.
F-7MP landing at Mushaf Airbase in 2006
PAF recieved more aircraft in 1994, and by 1995 it had completely taken the burden of the F-6s as the mainstay of the Pakistan Airforce. DACT with US F-14s and F-18s proved their worth.